Archive for June, 2011:
Last time we shared all kinds of ideas to help celebrate our June Brides and Grooms. And we sincerely hope that every single couple that's married in June (or any other month, of course) has many happy anniversaries.
When do you think they will have these anniversaries? Well, in the same month as the wedding. So here we are with a challenge to help all those Summer Brides and Grooms of years past celebrate their anniversaries.
Our design team has come up with an extra wide variety of cards for this occasion, and we're sure that you have some fabulous ideas of your own. We hope that you will join in the challenge and share an Anniversary project with all of us and our blog readers!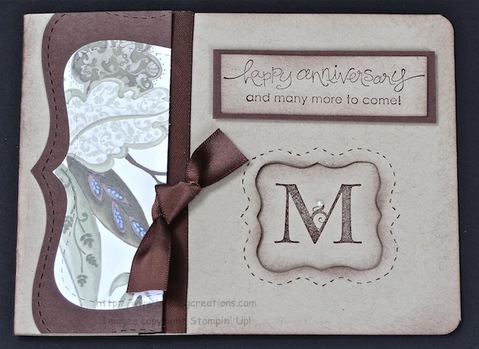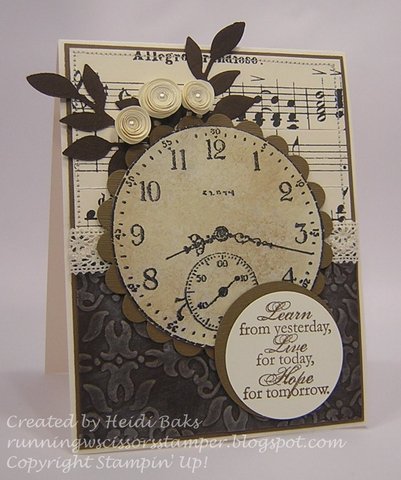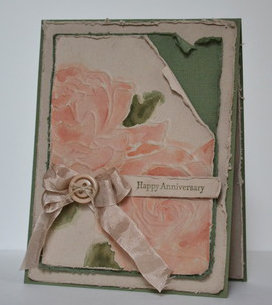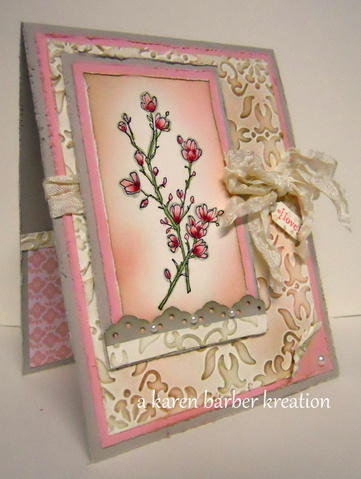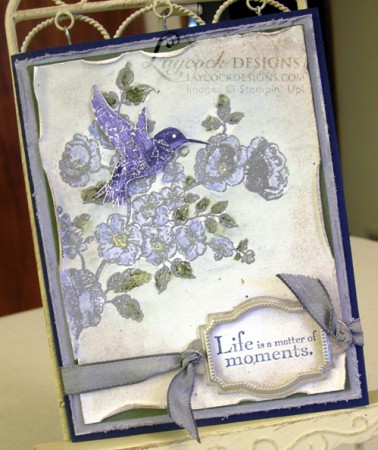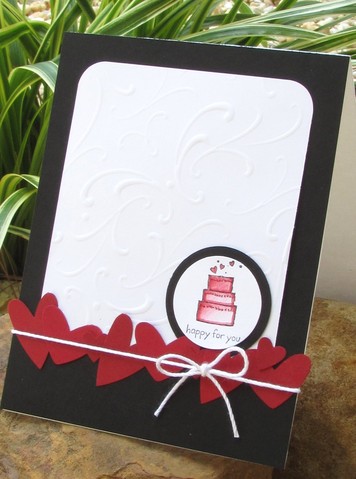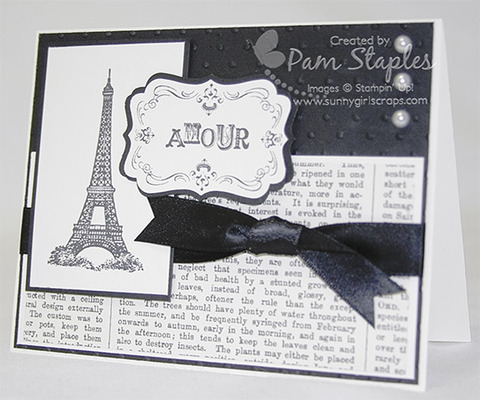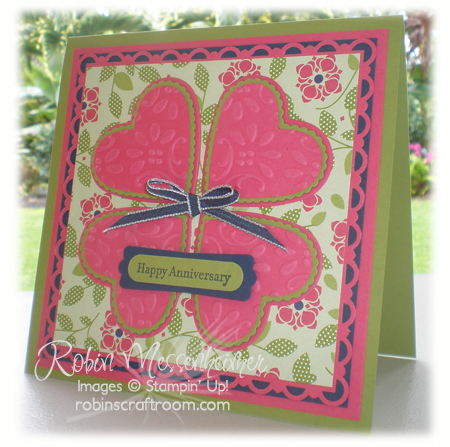 A Note From Our Challenge Team
We are really enjoying this challenge blog, and are very excited that there are so many of you who are eager to participate in a Stampin' Up! Only Challenge. However, we've noticed with a few entries a trend that doesn't align well with our purpose for hosting this blog. What we're trying to do is to challenge both our design team and all of you to have fun creating something new with Stampin' Up! products only. But several entries lately have been from designs that were posted to blogs in the past – sometimes in the distant past! We're trying to encourage you to get your Stampin' Up! products out NOW and have fun designing something new. Going back to find something in the past to fit today's challenge isn't quite making that happen. So we'd appreciate it very much if you would post fun new projects for our design team – and everyone else! – to enjoy.
We have a great time every two weeks going to all of your blogs and galleries to enjoy what you've done and read more about your projects. We definitely have a hard time deciding who the "Top Three" for the week are going to be – you're all so good! But we respectfully decline to consider for the "Top Three" honors any project that is not Stampin' Up! Only and any project that has been posted to a blog prior to the date that our challenge is issued.
And Now for our Top Three Bride and Groom Designs!
1. Tammy Q. Howell enthralled us with the Spring/Summer feel of this design, and especially the very creative flower. The way Tammy carried the colors throughout this card, especially on the embossed border and the tips of the flowers is just exquisite. Just wow!
2. Alycia Tedford captured our attention with her oh-so-clever rendition of the Tie the Knot theme. The colors are so (here's that word again) cleverly arranged that we found it hard to keep our eyes off the card, looking at all the different combinations of the sizes of circles. Fun!
3. Sara Goke was our next pick for a simply elegant wedding invitation featuring a lovely fold to open to the invitation text. We especially liked the way that she carried the colors and theme from the cover to the inside, and then to the reply card that went with it. Beautiful work!
Thanks to all of you – and don't forget to grab the code for your blog badge – up to the left!
June is traditionally THE month for weddings. When I was young, all of my friends wanted to be June brides and weddings came right on the heels of college graduations. I still personally think that June weddings are the most romantic, and I was thrilled when my best friend had her wedding in June not too many years ago. It was so lovely and I remember every moment of it.
And every wedding deserves lovely stationery – made with Stampin' Up! papers and inks and embellishments! Our design team members have created some beautiful and whimsical cards just for the occasion, and what fun it is to share them with you all! But cards aren't the only element of a collection of wedding stationery – think place cards, favors, guest books, memory albums!
Please join us by creating and submitting a wedding card or other paper-crafted items for your favorite bride or groom – Stampin' Up! Only, of course!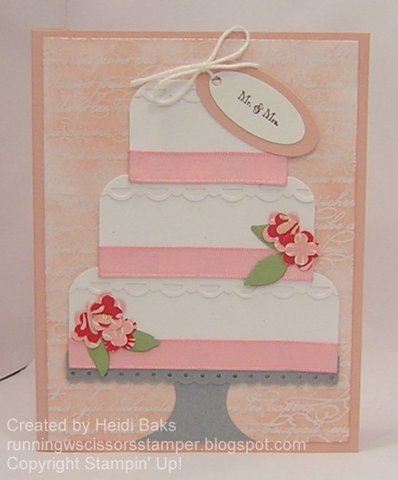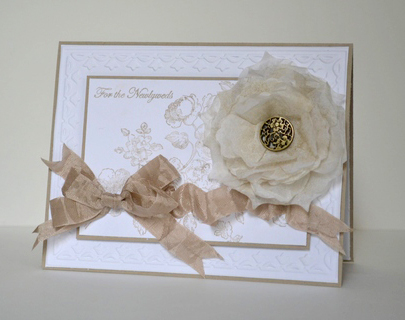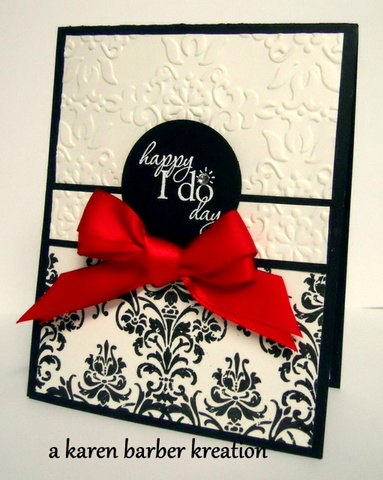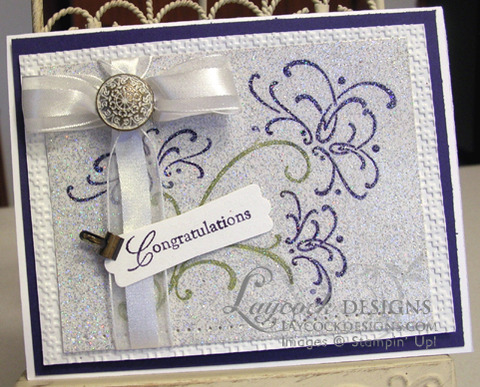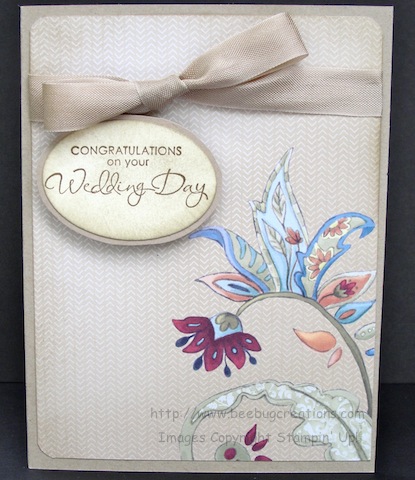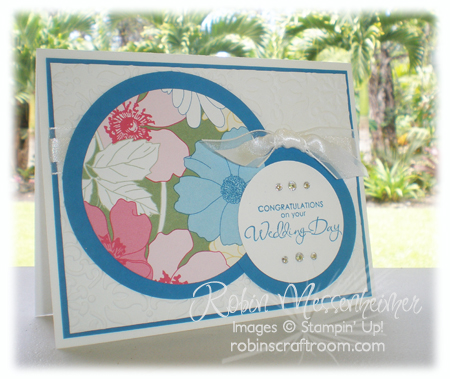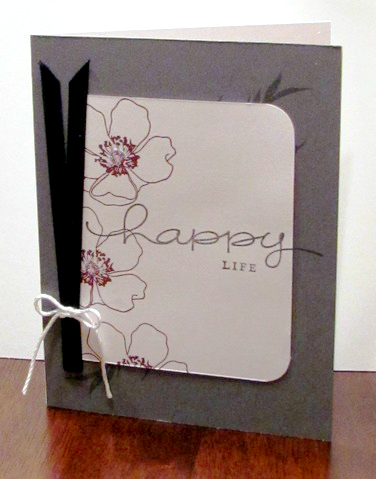 This challenge was created for fans of Stampin' Up! products and demonstrators to participate in and draw inspiration from. Hence the name of the blog, Stampin' Up! Only Challenges, we ask that you respect this by using only Stampin' Up! products. Retired Stampin' Up! product is welcome, as well as any outside products that you would normally see in any Stampin' Up! catalogs or publications, i.e., sewing on your card, stick pins, etc.
WHAT IS ALLOWED: Submitting creations and linking to the creation and recipe/instructions in your blog.
WHAT IS NOT ALLOWED: Submitting a creation that you are Selling a tutorial for and that you won't freely share a recipe/instructions without requesting a fee. If you are selling instructions/recipe for a creation, do not submit it for the challenge. It's okay if you advertise for-profit tutorials in your sidebar and if people go to the post to view the challenge card they may see the "ads" in your sidebar, it just can't be the post with the card/creation recipe and instructions you are submitting to the challenge.
SUO Challenges is an advertising-free zone and is a challenge that is for fun only. Respect our guidelines set forth above. Violators of these guidelines will be banned from this website. Help keep your favorite challenge clean and play by the rules. If you find a participant who has violated our guidelines, please email us. Thank you for your cooperation. Play fair and keep the challenge fun for everybody.
WINNERS OF OUR FATHER'S DAY CHALLENGE!

1. Sara Hoogendoorn – We all loved the layout and the beautiful monochromatic look of this card. The sponging did a wonderful job of tying the whole picture together!

2. Joan Jeffrey – This is a delightfully different way of using this stamp set. The way that you used the Jumbo Eyelet perfectdly accents the other circular elements .

3. Margaret – Your use of the pastels on this card is just stunning, as are the sponged accents on the textured layer. Love the colors!

Congratulations to you all and don't forget to pick up your badges!
*
There are some changes here at our Challenge blog this week. In addition to a brand new challenge (which will be posted tomorrow), I'd like to say "hello" and "goodbye" to 5 members.
First, the Hellos!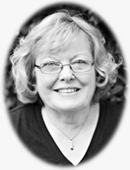 We welcome our new Design Team Coordinator! Robin Messenheimer will be leading the SUOChallenges blog and we wish her heartfelt welcomes!! Robin lives on the beautiful Island of Hawaii – "The Big Island" – in the state of Hawaii. She shares her home with her husband Harry and two fur children, Cholla the Cat and Hoku the Dog.
Robin has a large room in her house that she calls "Robin's Craft Room". Most of her craft room is dedicated to her stash of Stampin' Up! products.
There are some corners dedicated to a bit of sewing and crocheting. She says that more and more, all those crafts are starting to blend into one another as Stampin' Up! features new products that cross over into the realm of fabric and sewing.
Robin will be leading us with new challenges every other week and we thank her for her inspiration and dedication to SUO Challenges! Mahalo!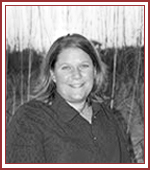 We also welcome our new Design Team member Pam Staples! Pam comes to us from lovely Smithfield, NC (she is a Minnesota native). She shares her home with her husband Mike and her adopted son, and her fur children: Savvy and Cooper (Golden Retrievers) and her cat MaCree.
Pam has been an avid scrapbooker for 20 years. In 2009, she joined Stampin' Up! as a demonstrator and she hosts crops and classes in her home on a regular basis.
Pam is a talented designer with a sunny personality! Pam also enjoys scuba diving and photography.
Robin and Pam are both excited to be joining us!
Now the "Goodbyes"…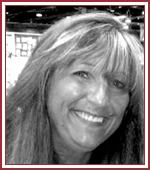 It is time to say goodbye to Cindy Coutts.
Cindy started this challenge blog last year and has had many fun times sharing her designs with her team members and with you.
However, Cindy decided she needs to focus on Christian Paper Crafts (the Christian community she owns) and will need to give up her involvement here at SUOChallenges. Cindy gave up her demonstratorship with Stampin' Up! and is pursuing design team positions for other stamp companies.
She hands over the Coordinator responsibilities to Robin Messenheimer. Thank you Cindy, for starting this challenge blog and coordinating it. You deserve a break!
It is also time to say goodbye to Patricia Weitzel.
Patricia has been with us since last fall as a Design Team member and she is a talented stamper and a joy to have on the team.
Patricia has also been helping out with writing the challenge blog posts for the last few months. Thanks so much to Patricia for the extra help!
Patricia is moving and has had other responsibilities to attend to at home.
We wish her well in the future and we hope she can return to stamping soon.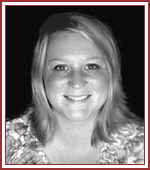 We also say goodbye to Amy Fink.
Amy has been with us since the beginning and has shared many lovely creations with us. However, she says its time for her to step down. She has had some problems with her internet connection and also has been short on time to contribute on a regular basis.
She has decided it would be best to take a break and refresh.
Thank you, Amy for your cheerful attitude and happy outlook you've given us all!
We will miss the smiles of Cindy, Amy and Patricia and we look forward to the future with Robin and Pam!
Blessings to all 5 of you as you make the transitions in your new roles!
Signed,
Michelle Laycock
Design Team Member Spokesperson