Fun and frilly was definitely the name of the game with all of the fab projects that our entrants showed off for our Fancy Frills challenge! I read the word, "CASE," on several of our SUO Challenge Design Team voting ballots this weekend, and I've got my eye on a couple of your projects for that, too!
So, with a fancy drum roll, we are pleased to announce our Top 3 for SUO Challenge #47: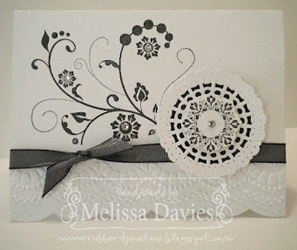 Melissa Davies. This Black and White design shows off Melissa's frills beautifully! And can't you just imagine the whole project in another single color of your own choosing? This is such a classically elegant card, with so many perfect little details – especially the new Doily Sizzlit with the black behind it showing off the details of the die.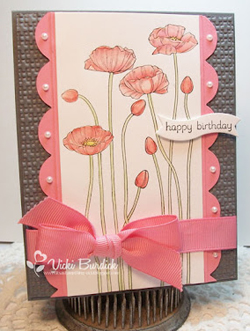 Vicki Burdick. There are so many lovely details on this card, also! It was hard for our team to pick out any one feature – the way all the details go together in the card's layout just made us smile! If we had to pick a favorite detail, it's the way that the flowers are colored.
Diane Vander Galien. Oh so feminine! The muted colors and embossing would have been gorgeous all by themselves; but adding the ruched seam binding ribbon over the Edgelits border, and then the pleated paper underneath just sent this card over the top!

Subscribe to the comments for this post