What fun to see all the different ways that Stampin' Up! Only artists use Stampin' Up!'s Buttons and Brads! From hardware to bright accents to the stars of the show, you all really showed us some fabulous ideas to think about as we go about using them in our own projects. Thanks so much for all the great entries!
As always, we really studied all of your entries; and, as always, we had a tough time of it selecting those of you to be highlighted as our Top 3 Designers for the challenge! But once again we managed to pick out three of your projects for special mention. Congratulations to our Top 3 for Challenge #50!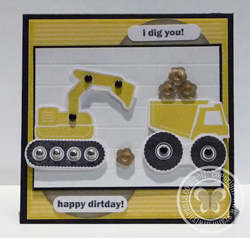 Paula Sievers, with her "all boy" project, showing off how rugged Stampin' Up!'s brads AND buttons are when they become part of a fun Stampin' Up! machine! All of those buttons and brads are just perfectly placed. "Too cute!" was the operative word in our discussions this week.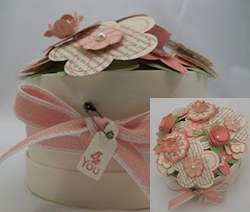 Darcie Bardach, who shared a simply gorgeous boxed bouquet of wonderful paper flowers with the brads forming the centers of some of them. It's so nice to have a beautiful 3-dimensional project as a challenge entry! "Stunning" perfectly describes Darcie's project!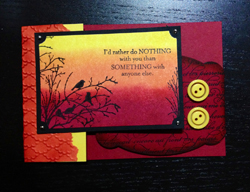 Jade Boteler, who got our attention immediately with her riche brayered colors. Those Daffodil Delight buttons perfectly accented that bit of card stock peeking out from behind one of the textured layers. "Eye-catching" certainly describes this beautiful card!

Subscribe to the comments for this post